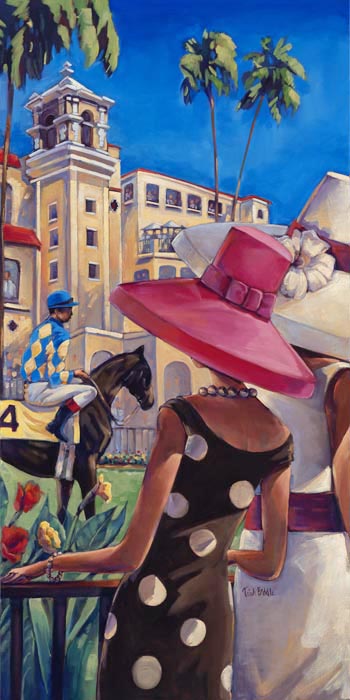 $825
24x48 Limited
Edition Giclée



$89
10x20 Limited
Edition Giclée


Official art of the 2009 Del Mar Thoroughbred Club. Trish Biddle has been commissioned by the Del Mar Thoroughbred Club in San Diego, California. This follows on the heels of another equestrian venue, the Kentucky derby, where Trish was the official artist in 2008. The Del Mar painting features bright colors and Trish's penchant for glamorous women in fabulous places ™ .
The track, which opened in 1937, is rich with history--home of the famous Seabiscuit-Ligaroti race, and playground for old-Hollywood's elite--and scenic beauty. The classic, Spanish-style architecture is surrounded by well-manicured lawns and vibrant flowers. Trish's art will be on the cover of the programs, tickets and complete line of merchandise.
Featuring blues, greens and reds.
Figuratives
24"x48" Oil on canvas
2009


Featured on Fox 4 News